Engineering
·
Chip HQ
·
Remote
Senior Backend Engineer (Remote within the UK)
At Chip, we are on a mission to build the best savings account in the world. Automated, intelligent, wealth-building all with an amazing UI for the mobile generation.
We usually respond within a day
We're building the best savings account in the world of the future. 

It's our mission to empower the mobile-first generation to save, invest and build real wealth seamlessly, effortlessly and innovatively.
We're sick of tradition. We're tired of doing things the old way; the way our grandparents did it. We're bored by out-of-date processes designed to fit one type of person.
We want to challenge the idea that only the rich can become richer; that only the experts can understand finance; that only the mogul can find the best returns. Because why should we accept that? Potential isn't a limited resource. Wealth isn't either. 
We're kicking down the door on what's been done, rejecting the hand we're dealt, and we're rewriting a new future for wealth management; one where everyone wins. A future defined by automation, machine learning and cutting edge technology.
We're always improving. We're continually building ways to make saving and investing space easier, more inclusive and, well… not boring. Because when you start to build real savings, the opportunities aren't boring at all. 
Without the worry of savings, you have more time to think big, think about the future. You have freedom. Chip is the future of savings and investing, and we're not going to stop until the whole world knows it.
Chip is being built by a fast-growing team of designers, developers, customer service professionals, marketers, banking experts, and entrepreneurs, with the backing of more than 11,000 investors and a huge community of Chip savers.
We're growing fast and we have some very exciting plans. We're looking for a Senior Backend Engineer to help us make them happen.
Come join the excitement. 
We are looking for talented and dedicated remote Senior Backend Engineer to help us build out a world beating feature set. Joining our engineering team you'll be responsible for developing new features and services to help us continue to deliver a great product to our customers that helps our company and their money grow.
What you can expect to be doing:
You will be working with a team to deliver new API capabilities that provide features for Chips customers intended to grow our user base and retain them in the long run. This will be achieved by working on the development of new microservices that will be deployed across our AWS estate. A strong interest in mentoring and guiding fellow engineers will you regularly involved in show & tell sessions with the goal of helping enable not just the engineers but the whole company in understanding what it is to be an engineer at Chip.
What we're looking for:
Programming language experience in PHP with an interest to learn GO
Experience with a PHP framework such as Laravel or Symfony
Strong understanding of design patterns (bus, repository, decorator, etc)
Strong understanding of mutable vs immutable databases
Experience with manipulating data structures and performing performance audits of codebase and database.
Development locally with Containers (Docker) through to production.
Strong understanding of branching strategies and where best to use them.
An understanding of Microservice architecture and how to develop micro services.
What we're really looking for: ✍️
Although we're in the financial space, and under the scrutiny that comes with it, the current engineering team works well together, and even sometimes with a smile. We're sure you've got the technical skills, otherwise you would have stopped reading by now, so let us be clear in what will make us want to work with you.
We want a real person, with interests outside of code, to join our work family. You could be a dancer, a gamer, a musician, a parent, a hockey fan, or even that one person that still writes Twilight fan-fiction. Doesn't matter to us. At the interview stages will be looking for empathy, eq, fun stories, and ability to smile even when things are tough. Code monkeys need not apply.

PERKS 🎁
£60,000 - £75,000 per annum dependant on experience
Share option scheme.
Workplace pension scheme (Employer: 3% / Employee: 4% / Tax Relief: 1% / Total: 8%)
We are an equal opportunity employer and value diversity
Flexible working arrangements
Unlimited holiday (28 days contracted inc bank holidays) ✈️
Personal Learning Allowance
MacBook Pro or similar
Opportunity to have a huge impact on our product while fast-tracking your knowledge, responsibility and skills in a high growth fintech startup.
Our Interview process: 📖
Video Screen with someone from our Talent team
Take home technical test
Video interview with our squad lead
Final Interview with HR & Product Manager
Note to Agencies
Chip does not accept unsolicited CVs from recruiters or employment agencies in response to any of our live roles on our career page. Chip will not consider or agree to payment of any referral compensation or recruiter fee relating to these unsolicited CVs. Chip explicitly reserves the right to hire those candidate(s) without any financial obligation to the recruiter or agency. Any unsolicited CVs, including those submitted to hiring managers, are deemed to be the property of Chip.
Department

Locations

Chip HQ

Remote status

Fully Remote
We usually respond within a day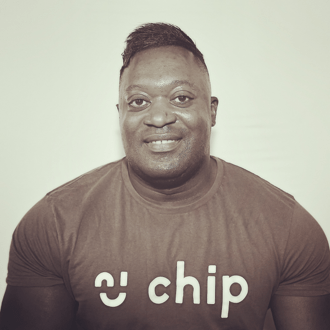 Contact
DB
Head of Talent – Human Resources
Related jobs
Perks & Benefits
Unlimited holiday ✈️

28 days contracted but policy not to count

Fitness & Wellbeing 🏋️

Chip Fitness Benefit to suit your Mental/Physical Wellbeing

Work from home 🏠

Flexible working arrangements

Education 📚

£1500 annual training budget which can also be used to attend conferences

Pension 💰

Workplace pension scheme (Employer: 3% / Employee: 4% / Tax Relief: 1% / Total: 8%)

Company Laptop 💻

Brand New MacBook Pro, or equivalent.
Workplace & Culture
Our #1 priority is making everyone from all walks of life here feel welcome. Our quirks, our backgrounds and our -isms are what make us unique at Chip, and is what makes our working environment so vibrant. We thrive on collaboration - everyone here has a voice, and everyone is listened to. We work hard and we work smart. We favour the unconventional, rethinking normal processes and strategies whenever we see the opportunity. There are always obstacles (like a global pandemic), but we have tremendous tenacity to come back better than before. At Chip HQ, no two days are the same (even remotely), and that's what keeps us agile and adaptable. We're daring, we're risk takers, and we're on a journey to build the best savings app in the world and make people feel confident about their money.
About Chip
At Chip, we are on a mission to build the best savings account in the world. Automated, intelligent, wealth-building all with an amazing UI for the mobile generation.

© Chip Financial Ltd 2019 - Registered Company #10113174
Savings
Chip is a trading name of Chip Financial Limited. Chip is authorised by the Financial Conduct Authority under the Payment Service Regulations 2017, firm reference number no. 911255, for the provision of payment services.Note that Chip is not a bank. We provide access to savings accounts with UK authorised partner banks and an e-money wallet with a UK authorised e-money provider.Only the money held in our Interest Accounts and Chip+1 account is covered by the Financial Services Compensation Scheme (FSCS) for deposits. To find out more and to check your eligibility please visit: www.fscs.org.ukFunds held in your e-money wallet are not covered by FSCS. This money is safeguarded with Prepaid Financial Services Limited.
‍
Chip is an agent of Prepaid Financial Services Limited. Prepaid Financial Services is authorised by the Financial Conduct Authority under the Electronic Money Regulations 2011, firm reference number 900036, for the issuance of electronic money and provision of payment services. Registered Office: Fifth Floor, Langham House, 302-308 Regent Street, London, W1B 3AT.Investments
For our Investment Product business only Chip is an Appointed Representative of P1 Investment Management Ltd, which is authorised and regulated by the Financial Conduct Authority, under Firm Reference Number 752005.Your money may be protected up to £85,000 by the Financial Services Compensation Scheme (FSCS) under their Investment Scheme. This means that in the event Chip Financial Ltd is declared to be in default and cannot meet their obligations, you may be able to claim compensation. It's important to understand that the FSCS doesn't cover you in the event that your investments go down and you get back less than what you put in. Further information is available from the FSCS website (www.fscs.org.uk).Come say hello at our office: Chancery House, 64 Chancery Lane, London, England, WC2A 1QU
Already working at Chip?
Let's recruit together and find your next colleague.