Product
·
Chip HQ
·
Flexible Remote
Product Owner
At Chip, we are on a mission to build the best savings account in the world. Automated, intelligent, wealth-building all with an amazing UI for the mobile generation.
We usually respond within a day
About Chip
We're building the best savings account in the world of the future.
It's our mission to empower the mobile-first generation to save, invest and build real wealth seamlessly, effortlessly and innovatively.
Chip is being built by a fast-growing team of designers, developers, customer service professionals, marketers, banking experts, and entrepreneurs, with the backing of more than 23,000 investors and a huge community of Chip savers.
Our Vision
A global borderless digital savings account that enables everyone to save and build wealth for their future without doing anything.
Our Purpose
Is to enable the world's adults to build a wealthier tomorrow. We do this by democratising access to market leading deposits and passive investing. This changes the world because wealth creates choices and the opportunity to live our best lives.
Our Values
Be ACCOUNTABLE
Everything you do matters, Care about the end result, Challenge the norm, Disagree, yet commit to making it happen once a decision has been made, Do the best job possible
Be BOLD
Share our Ambition and do your bit to achieve it, Innovate: challenge the norm, break the mould and make it happen, Set goals that truly align with our mission, Do your best for our customers
Be COLLABORATIVE
Work cross-functionally - we win as a team, Build strong relationships based on trust, Treat others fairly and respectfully, Hold others to account, Be supportive and inclusive, Have fun together
We're growing fast and we have some very exciting plans. We're looking for an Product Owner to help us make them happen.
Come join the excitement. 

We need a Product Owner who understands what our customers need and will act as their champion within Chip.
What we're doing isn't easy and no-one's ever done it before. We need someone who can look at complicated banking infrastructure, cutting edge technology and find ways to make it simple, better, more human.
We need a problem solver. A doer. Someone who can make the technical simple, the complex clear, who's not afraid to take ownership of big challenges facing our product, find solutions, and communicate comfortably and clearly with every level of the business.
We know the solutions won't always be simple, but you should be able to explain them in a simple way.
And the most important word in all of this is 'Owner'. We want someone who will take responsibility for Chip's customer facing product, steer it with the customer in mind and not accept anything less than the very best for the product and Chip's customers.

What you can expect to be doing:
You'll execute our product roadmap and help scale some of our main features to our users. In other words, you'll be:
Working within a cross functional team to get new features in the customer's hands
Gathering requirements, coordinating complex dependencies and prioritise the day to day work to go from idea to successful implementation
Collaborating with teams across Chip to align plans, unblock development, and communicate changes with our customers
Working autonomously through the backlog while making sure that features get delivered quickly and efficiently
Tracking and monitoring your features' performance and functionality after launch to iterate and improve on them
Work closely with our senior leadership team and our cross functional teams to help define and deliver our product roadmap
Communicate with your team to continuously improve how you work together, making sure everyone is productive, happy and efficient.




What we're really looking for:
You have a strong background in shipping world-class products in a fast-growing company
You're confident and able to take direct ownership over product development
You're passionate about building the best possible user experience, and you monitor your metrics to see whether you're delivering
You're comfortable working in a technical team that deals with ambiguity and highly complex problems every day
You have excellent communication skills and love to work in cross functional teams
Fintech knowledge would be preferred.
What we're doing here at Chip excites you!

What we're really looking for: ✍️
Someone with a genuine interest in Chip and is excited about being part of a fast-growing company and our mission to build the best savings account in the world.
Although we're in the financial space, and under the scrutiny that comes with it, the current product team works well together, and even sometimes with a smile. We're sure you've got the technical skills, otherwise you would have stopped reading by now, so let us be clear on what will make us want to work with you.
We want a real person, with interests outside of work, to join our team. You could be a dancer, a gamer, a musician, a parent, a hockey fan, or even that one person that still writes Twilight fan-fiction. Doesn't matter to us.
At the interview stages we will be looking for empathy, eq, fun stories, and ability to smile even when things are tough.

PERKS 🎁
£45,000 - £60,000 per annum dependant on experience
Discretionary share option bonus every 6 months
Workplace pension scheme (Employer: 3% / Employee: 4% / Tax Relief: 1% / Total: 8%)
Free ChipX subscription for UK based employees
We are an equal opportunity employer and value diversity
Flexible working arrangements
Unlimited holiday (28 days contracted but policy not to count) ✈️
Personal Learning Allowance
Company laptop
Opportunity to have a huge impact on our product while fast-tracking your knowledge, responsibility and skills in a high growth fintech startup 🚀

Our Interview process: 📖
Video Screen with someone from our Talent team
You will be given a Product Challenge to complete before your Product Interview with the Core PM and the VP of Product. We expect you to give a 5 minutes presentation. This challenge will look at your Creative, Analytical and Problem solving skills, giving you time to show us your best work in a relaxed environment.
Meet the rest of the team - Interview with Head of Engineering and Product Designer
Final interview with HR and Product Manager
Note to Agencies
Chip does not accept unsolicited CVs from recruiters or employment agencies in response to any of our live roles on our career page. Chip will not consider or agree to payment of any referral compensation or recruiter fee relating to these unsolicited CVs. Chip explicitly reserves the right to hire those candidate(s) without any financial obligation to the recruiter or agency. Any unsolicited CVs, including those submitted to hiring managers, are deemed to be the property of Chip.
Department

Locations

Chip HQ

Remote status

Flexible Remote
We usually respond within a day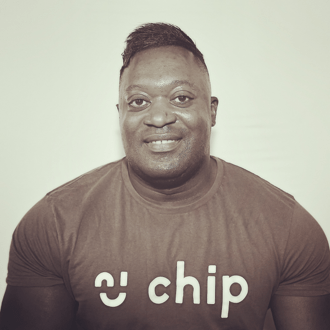 Related jobs
Perks & Benefits
Unlimited holiday ✈️

28 days contracted but policy not to count

Fitness & Wellbeing 🏋️

Chip Fitness Benefit to suit your Mental/Physical Wellbeing

Work from home 🏠

Flexible working arrangements

Education 📚

£1500 annual training budget which can also be used to attend conferences

Pension 💰

Workplace pension scheme (Employer: 3% / Employee: 4% / Tax Relief: 1% / Total: 8%)

Company Laptop 💻

Brand New MacBook Pro, or equivalent.
Workplace & Culture
Our #1 priority is making everyone from all walks of life here feel welcome. Our quirks, our backgrounds and our -isms are what make us unique at Chip, and is what makes our working environment so vibrant. We thrive on collaboration - everyone here has a voice, and everyone is listened to. We work hard and we work smart. We favour the unconventional, rethinking normal processes and strategies whenever we see the opportunity. There are always obstacles (like a global pandemic), but we have tremendous tenacity to come back better than before. At Chip HQ, no two days are the same (even remotely), and that's what keeps us agile and adaptable. We're daring, we're risk takers, and we're on a journey to build the best savings app in the world and make people feel confident about their money.
About Chip
At Chip, we are on a mission to build the best savings account in the world. Automated, intelligent, wealth-building all with an amazing UI for the mobile generation.

© Chip Financial Ltd 2019 - Registered Company #10113174
Savings
Chip is a trading name of Chip Financial Limited. Chip is authorised by the Financial Conduct Authority under the Payment Service Regulations 2017, firm reference number no. 911255, for the provision of payment services.Note that Chip is not a bank. We provide access to savings accounts with UK authorised partner banks and an e-money wallet with a UK authorised e-money provider.Only the money held in our Interest Accounts and Chip+1 account is covered by the Financial Services Compensation Scheme (FSCS) for deposits. To find out more and to check your eligibility please visit: www.fscs.org.ukFunds held in your e-money wallet are not covered by FSCS. This money is safeguarded with Prepaid Financial Services Limited.
‍
Chip is an agent of Prepaid Financial Services Limited. Prepaid Financial Services is authorised by the Financial Conduct Authority under the Electronic Money Regulations 2011, firm reference number 900036, for the issuance of electronic money and provision of payment services. Registered Office: Fifth Floor, Langham House, 302-308 Regent Street, London, W1B 3AT.Investments
For our Investment Product business only Chip is an Appointed Representative of P1 Investment Management Ltd, which is authorised and regulated by the Financial Conduct Authority, under Firm Reference Number 752005.Your money may be protected up to £85,000 by the Financial Services Compensation Scheme (FSCS) under their Investment Scheme. This means that in the event Chip Financial Ltd is declared to be in default and cannot meet their obligations, you may be able to claim compensation. It's important to understand that the FSCS doesn't cover you in the event that your investments go down and you get back less than what you put in. Further information is available from the FSCS website (www.fscs.org.uk).Come say hello at our office: Chancery House, 64 Chancery Lane, London, England, WC2A 1QU
Already working at Chip?
Let's recruit together and find your next colleague.